Power Yoga
This class is taught by: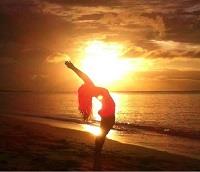 RYT w/ 500 Hour level of training.
Dunia has been in the mental health field since 1994 and is a Licensed Clinical Social Worker in the state of Florida; with experience working with the elderly, acute mental health and traumatic brain injured patients, at-risk youth, domestic violence, substance abuse, inclusion and special needs, and early childhood development.
Her area of expertise is promoting Social-Emotional Competence in young children and infants. She is also a Certified Educator in Infant Massage promoting bonding and attachment between babies and their parent(s)/caregiver(s). Dunia brings her mental health experience into her yoga classes, creating an inclusive, healing and self-esteem building environment, through the asana practice.
Power Yoga has it's roots in Ashtanga and Vinyasa. Without as much emphasis on the spiritual side of the practice (no mantras to memorize), power yoga was designed to be more accessible to all students. Power Yoga will give you a complete workout with deep stretching and core work. It is beginner / intermediate level.
Upcoming classes: