Primal Flow Yoga
This class is taught by: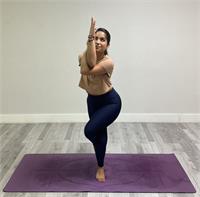 My relationship with yoga began as a means to heal physical pain. In the process, I discovered how this practice started to heal emotional pain, and replaced anxiety with so much love and gratitude. I learned that the more I faced my fears, the braver and kinder I became.
Yoga has taught me to be strong, calm, and patient. This is reflected in my classes, where I explore conscious movement and allow the breath to take control. I only hope to share this practice's infinite knowledge with everyone around me.
Primal Flow Yoga incorporates natural movements of nature into sequencing. Earth elements and even animals will tap into your primal nature in this beautiful class.
Upcoming classes: