Beginner's KIND Yoga
This class is taught by: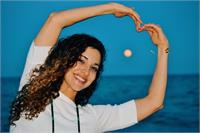 Marly Q. is a KIND Yoga teacher, speaker, event creator and philanthropist with a life-long passion for service that shines. Her mission is to be the SPARK that inspires people to PARK (Perform Acts of Random Kindness) for themselves and others. A kind (and persistent) invitation to visit Energy Yoga led to falling in love and becoming a certified RYT (Registered Yoga Teacher) in 2014 and is currently studying to earn her 500 Hour RYT certification by the end of 2017.
Feeling sluggish on Friday mornings? There's no better way to finish off your busy work week than with this refreshing and restorative KIND Yoga class!
Discover how to use your breath as an anchor to calm your monkey mind and develop a greater sense of peace, clarity and relaxation from the inside out. You will enjoy flowing through invigorating sun salutations and kind stretches designed to give your mind, body and spirit a SPARK of positive energy to kickoff the weekend with a SMILE.
Upcoming classes: