Nelsy Casanova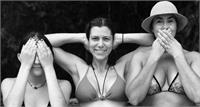 "The quieter you become the more you are able to hear." Rumi
Nelsy Casanova is a Certified Mathematics, Special Education, Elementary Teacher and a mother two.
Nelsy started taking yoga classes in order to become more flexible and discovered a love for yoga and all its forms. As a result, she became a yoga instructor 3 years ago and has taught Yin Yoga, the "quiet yoga" since September 2014. Her classes are soothing, relaxing and gentle on the body and spirit.
Nelsy Casanova instructs the following:
Yin yoga is a slow-paced style of yoga with poses or asanas that are held for longer periods of time—five minutes or longer per pose is typical.