Samantha Berg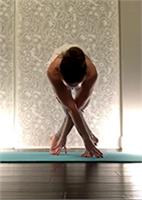 RYT w/ 500 Hour level of training.
Sam brings power and grace into her teaching and practice. Originally a dancer from Brazil, Sam has a great sense of humor, is extremely knowledgeable and challenging.
Samantha Berg instructs the following:
This class is designed for all levels and is a combination of Vinyasa Flow with a focus on alignment.

This practice, at room temperature, is great for building core strength and toning the body, while proper alignment improves flexibility, circulation and creates space for the nervous system to relax, bringing a balanced flow of energy through the whole body.




Not your Grandma's Chair Yoga

Not your Grandma's Chair Yoga is a playful yoga practice with the chair. A folding chair has long been used in the practice of Iyengar Yoga, however NYGCY will explore less traditional and more innovative ways to use the chair.
The intention is to allow students to have access to many poses they would normally not be able to do while having fun and deepening their yoga practice.




Power Vinyasa Flow Yoga is a powerful, energetic form of yoga where students fluidly move from one pose to the next while linking their breath to each movement.




Join Sam Berg for this workshop that goes back to basics, teaching you how to master the foundational poses of our yoga practice.

Whether you are just starting your yoga journey, as a beginner, or are a seasoned practitioner, you will leave this workshop with more confidence and knowledge about these basic building blocks of a solid yoga practice.