Vanessa Ramos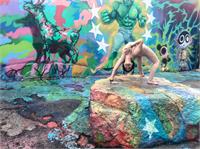 In 2007 I began practicing yoga with the purpose of increasing my physical flexibility. Little did I know this practice would take me on a journey to not only increase my physical being but my mental wellbeing as well. Yoga taught me to move with intension and be present. By doing this I became more spiritual allowing me to cope with the anxiety and stress of daily life. Through meditation sessions, breathing and flowing techniques, I hope to help other yogis in the never ending journey of mindfulness.
Vanessa Ramos instructs the following:
Power Vinyasa Flow Yoga is a powerful, energetic form of yoga where students fluidly move from one pose to the next while linking their breath to each movement.




Detox for the body and soul in a class sure the make you pure from the inside out.

Minimum Age Requirement for this class is 18 years of age.