Sofia Villalobos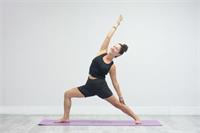 Sofía Villalobos discovered her passion for the yoga practice in 2005 and has been inspired by many teachers to awaken the joy of yoga in others. Since her name means wisdom, Sofía continues her path of always learning and expanding her knowledge of several styles and poses to offer variety for her students. Her Master of Science degree in Higher Education Administration allows her to work with students in various capacities on a daily basis. She is known for her caring nature to help others, a drive to succeed and her belief that yoga is the best gift we can give to ourselves and to others.
Sofia Villalobos instructs the following:
Rated "Intermediate" This is a heart opening class available to "All Levels." Hatha is like going to a buffet. Based on the students, the teacher will select from a wide assortment of styles/poses.